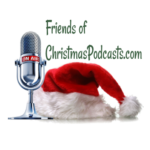 It's episode 19 and once again it's packed to the gills.
We have not one, but two Santa Claus is Not coming to town stories for you, plus Benji Pearson shares his story of decorating the family Christmas tree.
The gift suggestion is for those ungrateful kids who 'forget' to send a Thank You card.  It's a pack of Thank You cards for the kids to colour in and then send back to you.  Sometimes you just need to give them a gentle hint.  Here's a link:  www.theillustratedsaying.co.uk
I have an interview with our lovely listener Shelli Arnold, who talks to us about the model Christmas village she makes each year.  Make sure you check out the Facebook page to see just how impressive the village is.
This week's version of a Christmas Carol is set in modern day Scotland and on a very low budget, the film makers show us just how bad a version of a Christmas Carol can be.  I'm not providing a link as I don't want to put you through having to watch it.
Then it's something a bit different.  I have a film review of the 2014 movie Christmas, Again, and then I have an interview with the director Charles Poekel.
This film instantly became one of my all time favourites and we have a give away, so email me with your address and I'll put your name in the hat to win a DVD of Christmas, Again.
Here's a link:   https://www.imdb.com/title/tt3894188/
This episode's Yule Lad is Meat Hook, who uses his hook to steal your meat, and then I play a short clip of The Yuletide Lads by Jonah Knight.
If you want to get in touch you can email me at totalchristmas@gmail.com or visit the website, totalchristmaspodcast.com.
Merry Christmas
Listen to this episode of Total Christmas Podcast
Author: Jack
Title: Episode 19 – Christmas, Again