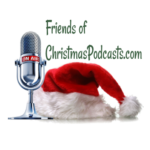 It's Episode 23 and it's great to be alive.
We start with a Story of Shame form one of the co-hosts of Jingle Jank, Jay Lachapelle, will the young ever learn that no good will come from peeking at your Christmas presents?
Hard to believe, but this is the first time we look at one of the major versions of A Christmas Carol.  This is the 1984 one starring George C Scott as Scrooge and a host of British actors in the supporting roles.  It's a fantastic version and if you've never seen it, it's on YouTube.
Plus there's a very bad quiz where you have to guess if the actors from this version of A Christmas Carol ever appeared in Dr Who.
Robin and Juno sing Away In A Manger and manage to get most of the words right.
This Episode's recommendation is Gossipmongers.  In my opinion it's the funniest podcast out there.  Here's a link:  https://podcasts.apple.com/gb/podcast/gossipmongers/id1454848064
If you want to get in touch please email me at  totalchristmas@gmail.com
Merry Christmas
Listen to this episode of Total Christmas Podcast
Author:
Title:
Episode 23 – George C Scott's Christmas Carol