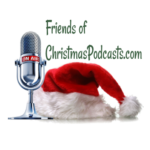 It's Episode 27, and it's our birthday, 1 glorious year.
This episode we have our anniversary spectacular and believe me when I say we have spared every expense celebrating 12 months of this drivel.
We begin the show with Santa Claus is NOT Coming to Town, and our newly (self) appointed Most Valued Listener, Eddie Honan, tells the tale of how his dad let slip the truth about Saint Nick.
Then we have the triumphant return of Robin Sings.  Our darling songstress entertains us all with two humorous renditions of Jingle Bells.
Then we discuss all the wonderful treats that Santa receives as he's making his way around the globe.
After that it's a look at The Christmas Toy.  9 years before Pixar stole their idea, Jim Henson and the Muppets had a wonderful Christmas special about toys that come to life.
This week's recommendation is This Is Love by Phoebe Judge.  It's a delightful podcast that we hope you'll enjoy.  Here's a link:   https://thisislovepodcast.com/
If you'd like to get in touch you can email us at totalchristmas@gmail.com or visit the website
totalchristmaspodcast.com
Merry Christmas
Listen to this episode of Total Christmas Podcast
Author: Jack
Title: Episode 27 – What is Santa Eating?