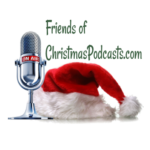 It's Episode 28 and if my knowledge of numerology is correct, I foresee that this show will be full of the usual stuff.
After last week's wonderful rendition of Jingle Bells, Batman Smells we revisit the song to learn a bit about it's origins and Robin sings some of the numerous versions of the song.
We have a fantastic quiz about the book A Christmas Carol.  It's your chance to find out if you know as much as you think you know about this great classic.
Then we look at Bugs Bunny's Looney Tunes Christmas Tales, 3 Christmas stories, one of which is perhaps the laziest version of A Christmas Carol I've ever seen.
If you want to watch it here's a link:  https://www.dailymotion.com/video/x5ji4wa
This episode's recommendation is Advent Calendar House hosted by Mike Westfall.  It's a great podcast that looks at holiday specials, particularly Christmas ones.
Here's a link:  https://adventcalendar.house/
If you want to get in touch, the email is totalchristmas@gmail.com
Or you can visit the website at totalchristmaspodcast.com
Merry Christmas
Listen to this episode of Total Christmas Podcast
Author: Jack
Title: Episode 28 – Jingle Bells, Batman Smells