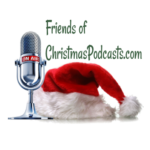 An aunt taking care of 2 kids and she falls in love with their uncle that isn't related to her but to the kids? Sounds complicated, right? Well we take a deep-ish dive into this royal gene pool and we tell you what we think. Also, we don't know how royalty works, so if anyone could help us out, that'd be great.
Disclaimer: This podcast contains spoilers and swears.
Warm our hearts all year long by rating, reviewing and subscribing to us wherever you get your podcasts. Don't forget to follow us on social media: Twitter, Instagram, and Facebook.
If we jingled your bells, please consider subscribing to our Patreon. You get to peek under the tree with early access to episodes, bonus content, and rewards at every level! This helps us with our production costs and to create even more holiday cheer!
Thank you for listening and have a very merry NetfliXmas!
All our links in one place: http://linktr.ee/netflixmaspodcast
Listen to this episode of the NetFlixmas Podcast
Author: netflixmaspodcast
Title: A Princess for Christmas – Rise of the Dingledorks