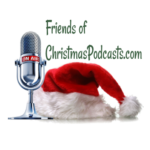 The February bonus episode features the boys' first guest and their first real foray into a Hanukkah episode. Gerry Davilla from Totally Rad Christmas stops by to have the boys watch and discuss "A Christmas Story" from the third season of the ABC sitcom The Goldbergs (available on Hulu). Since "Christmas Classic" doesn't really apply to this episode, the boys create a new ranking on the spot and Chris shares what little he knows about celebrating Hanukkah with the listeners.
Non winter holiday topics Include: beer jackets, Reno 911, licking things, poles, Beanie Babies, trivia, Tom Selleck, and D&D.
Find Totally Rad Christmas on your favorite podcasting app or at this link.
IMDB entry for this episode: https://www.imdb.com/title/tt5140288/.
Listen to this episode of YuletideTV Podcast
Author: Second Floor Productions
Title: Bonus Ep. 13 – The Goldbergs: A Christmas Story (w/Gerry Davilla from Totally Rad Christmas)