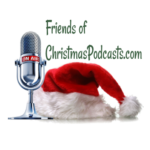 Holli is joined by guest co-host Katelyn Renee.  We will eventually cover all 8 episodes of Bridgerton, but depression and ice storms and burnout sucks, so they'll come out when we can manage *crying/cry laughing emoji*.
Disclaimer: This podcast contains spoilers and swears.
If you'd like to support Scarlett: Venmo @Scarlett-Alexandra
Warm our hearts all year long by rating, reviewing and subscribing to us wherever you get your podcasts. Don't forget to follow us on social media: Twitter, Instagram, and Facebook.
If we jingled your bells, please consider subscribing to our Patreon. You get to peek under the tree with early access to episodes, bonus content, and rewards at every level! This helps us with our production costs and to create even more holiday cheer!
Thank you for listening and have a very merry NetfliXmas!
All our links in one place: http://linktr.ee/netflixmaspodcast
Listen to this episode of the NetFlixmas Podcast
Author: netflixmaspodcast
Title: Bridgerton Ep 2, feat. Katelyn Renee – Wow, we actually got episode 2 out!