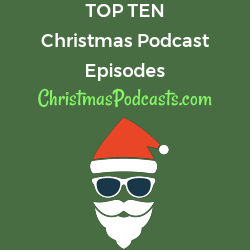 We are pleased to announce our first Christmas Podcasts ranking of the most listened to episodes for the month of September 2020. They are:
1. Merry Little Podcast – Scrooge
2. Tinsel Tunes – Hark the Herald Angels Sing
3. Yuletide TV – Call the Midwife
4. Can't Wait for Christmas Podcast – Feeding the Hungry
5. A Cozy Christmas Podcast – Christmas Shopping with Jack Benny
6. Jingle Jank Podcast – Santa Claus in Outer Space
7. Sleigh Bells and Mistletoe Christmas Podcast – Christmas Cures for the Covid Blues: Facebook Fun
8. Seasons Eatings Podcast – Wassail
9. Christmas Podding – We Reveal the #1 Christmas Food of All Time
10. Christmas Hall of Fame Podcast – Podcast Bio: Santa Claus
Given that September 2020 was our first full month of operation the following should be kept in mind:
– We have a database so far of more than 200 total Christmas episodes, resulting in thousands of "listens" and "downloads" each week. In time, our rankings will be published on a weekly basis. This ranking for the month of September 2020 is based on metrics that were absolutely verifiable.
– Our rankings are based off tracking from our server and from a host of aggregators. While we track as closely as we can we do not claim these rankings are yet comprehensive against the entirety of Christmas podcast episodes available online during the same time frame. (Not yet…but in time…)
– We can only track those podcasts we feature. We have many more prominent Christmas podcasts yet to index.
– With each passing week we are adding more podcasts to our podcast directory. The churn greatly affects the statistics we collect.
– Other factors such as when a new episode drops, where it is available and how it is promoted or featured through-out the Internet will affect the rankings.
– The ChristmasPodcasts Podcast is excluded from all rankings in an effort to not affect the statistical pool of the podcasts in the database.
– As time goes on the rankings will improve as greater tracking and a more complete database of Christmas podcasts is built.
While we see rankings as a fun aside to the Christmas Podcast universe we strongly encourage podcast listeners to rate and review both the podcasters and each individual episode. That can be done here at ChristmasPodcasts.com and just about anywhere that you regularly listen to podcasts. We know podcasters live for listener feedback and are responsive to listener requests.
We are excited about this project. We are grateful to those podcasters who are helping to establish ChristmasPodcasts.com as a year round Christmas podcast authority serving the Christmas Community online.
If you have a podcast to feature on Christmas Podcasts please submit it to Sean for review by going to this link.
https://christmaspodcasts.com/wp-content/uploads/2020/08/bugle.jpg
1061
1500
Christmas Podmaster
https://christmaspodcasts.com/wp-content/uploads/2023/06/logo4-300x138.png
Christmas Podmaster
2020-10-10 15:34:10
2020-10-10 15:34:10
Christmas Podcasts Episode Rankings for September 2020