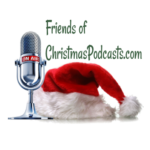 We're doing 12 Days of Christmas Podcasts. A podcast every day from now till Christmas Day.
What is the Greatest Christmas Gift of All time, The Mums of the World have Spoken.
Do you decorate your bedroom? What rooms get missed every Christmas and is that a good thing?
Plus the Top 3 Foods that MUST be on your Christmas Table this year.
And Liam and Ness wrap up the show by singing Have Yourself a Merry Little Christmas.
On Australia's ONLY Christmas Podcast, Christmas Podding.
Check out Liam and Ness's personalised Christmas Podding Podcast Playlist now on Spotify
https://open.spotify.com/playlist/0cviwIYNaB2GfqCda7Aos2?si=NEEcthhjR_Konr-KeueuKg
Listen to this episode of Christmas Podding
Author: Liam Renton and Vanessa Gibson
Title: Christmas Podding -We uncover the GREATEST Christmas Gift of All time as voted by the Mums of the World