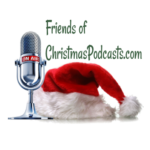 We've got a Podcast A DAY Everyday for the 12 Days before Christmas. On todays Ep.
Ever considered taking a day off from the world and spending Christmas Day Alone? We discover why it could be the best gift you ever give yourself.
What are the gifts to stay away from this year? We know the gifts that will cause an Instant Argument with your partner.
Ever wondered which child get the most presents from your parents? The eldest, middle or youngest child? You may shocked by the answer. Plus
Liam and Ness sing a  catchy rendition of the Christmas Classic "Sleigh Ride"
And make sure you click and listen to our very own Christmas Podding Podcast Spotify Playlist.
https://open.spotify.com/playlist/0cviwIYNaB2GfqCda7Aos2?si=NEEcthhjR_Konr-KeueuKg
All that and more as we talk all things Christmas on Australia's ONLY Christmas Podcast.
Listen to this episode of Christmas Podding
Author: Liam Renton
Title: Christmas Podding- Why Spending Christmas Day ALONE Could be the BEST Gift you ever give Yourself.