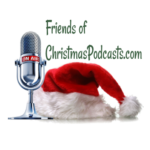 We're presenting the 12 Days of Christmas Podcasts. A Podcast a Day every Day leading up to the Big Day.
Why Self Gifting is So Important this year. What should you Buy Yourself this Christmas?
We look at the BEST Christmas Cooking Shows and discover what you MUST watch this year. Plus
Why you have to take a Christmas Day NAP and how it will make your day one to remember.
Liam and Ness belt out a catchy version of the Christmas Classic Last Christmas.
And make sure you check out our Christmas Podding Podcast Playlist on Spotify.
https://open.spotify.com/playlist/0cviwIYNaB2GfqCda7Aos2?si=NEEcthhjR_Konr-KeueuKg
All coming up on Australia's ONLY Christmas Podcast.
Listen to this episode of Christmas Podding
Author: Liam Renton
Title: Christmas Podding- Why you Must Self Gift and give Yourself something SPECIAL this Christmas