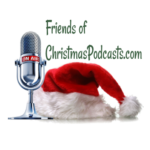 Winter is in full swing, and Grace and I have the giggles today. I ask her some Holly Jolly Christmas questions and they quickly spiral into moments of laughter as we're interrupted by her Teddy Bears, we try to figure out the names of Santa's reindeer, and I'm reminded how nice a kid she is when I ask her the question: if you could have any gift on your wishlist what would it be? Her answer surprised me!
I also share another listener memory from Rick, and how the song "Downtown" puts him in a Christmas mood, I recommend a book, and read the story "The Set of Poe" by George Ade.
Though I don't mention it in the episode, we just hit 30,000 downloads! Thank you THANK YOU for all who have been listening this past year. I'm overwhelmed and grateful for you all!
00:00 Introduction
02:10 Holly Jolly Christmas with Gracie
19:37 Listener Memory
25:08 Cozy Christmas Book Corner: A Calm Christmas and a Happy New Year by Beth Kempton
31:47 Story: The Set of Poe by George Ade
45:15 Concluding Thoughts
Deck the Halls by Kevin MacLeod is licensed under a Creative Commons Attribution 4.0 license. https://creativecommons.org/licenses/by/4.0/
Source: http://incompetech.com/music/royalty-free/index.html?isrc=USUAN1100270
Artist: http://incompetech.com/
Listen to this episode of the Cozy Christmas Podcast
Author: ArtK
Title: Connor the Reindeer? (and More Holly Jolly Fun with Grace)