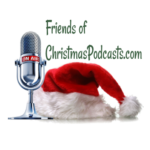 Happy Monday, Christmas Fanatics! We are officially in the last week of October! Can you believe it? To celebrate it being Halloween week, join Julia, Thom, and Anthony as they discuss the 2016, non-Christmas-Christmas movie, The Conjuring 2: Enfield Poltergeist. In addition to this creepy film, they talk about the trailer for The Christmas Chronicles 2, Anthony raves about Season 2 of The Boys, Thom expresses some of his theories about The Haunting of Bly Manor – which he is currently halfway through, Julia tells us about her amazing Fall vacation, all three elves express their dismay about It's the Great Pumpkin, Charlie Brown!, A Charlie Brown Thanksgiving, and A Charlie Brown Christmas not being shown on broadcast TV this year, and much, much, more. This is a fun, spooky episode that you don't want to miss! So turn out the lights, settle in with your favorite pumpkin-flavored drink, enjoy, and get excited – because the Christmas lights will be up by the time next week's episode drops!
Listen to this episode of Tis the Podcast
Author: Anthony
Title: Episode 169: Sometimes We Have To Take A Leap Of Faith; To Believe When No One Else Will.