Welcome to episode 41 of Holly Jolly X'masu! In this episode I'll be talking about Christmas songs by Japanese Folk singers. I've pulled these songs from half a dozen different records from the late 60s and early 70s. Some are familiar standards, but the real standouts here are the original songs.
I've been wanting to do this episode for quite a while now. When I initially started collecting these albums, the bulk of what I bought were full albums. I had a fairly short list of records I wanted to get and only a couple of those were singles. I figured I'd only end up with enough albums for two or three dozen episodes at most, and I planned on tacking on those singles to whichever album seemed most appropriate. As I found more music that I liked, though, I realized I'd have to start buying more singles in order to get the music I wanted.
Initially it was just 7" 45s. I started picking up the occasional 12" single, and then eventually a bunch of mini-CD singles. I then started finding songs that only appeared as deeper cuts on full-length albums, so I started collecting some of those as well. Before I knew it, I had hundreds of these songs.
I realized that I was going to have to start planning episodes that didn't focus on a single album. I figured themed episodes would be the best approach, and I've already done that a couple times with my Christmas in July episodes. As I got closer to this month with my planned Folk albums, I decided to do one dedicated to these other Folk tracks I'd accumulated.
Thankfully, the Folk songs I've collected are all pretty great, so putting together this episode was fairly easy. I'd already listened to a lot of the songs here dozens of times, and listening to them a few more times was certainly no chore. Research for this episode was a little frustrating due to the lack of information for several of the bands, but it's often hit-or-miss with some of these artists.
I did find a page dedicated to Japanese Folk bands, so I'll be going back to that and trying to find additional Christmas Folk. I was surprised by just how many Japanese Folk bands there were. As thorough as that site seems to be, it actually left out a couple of the artists I have in this episode.
As for Maki Asakawa, I really wish she'd done more Christmas music, as she was just spectacular. I'd love to do a full episode about her. At some point, I might pick another album and then cover it as a bonus episode.
I hope you enjoyed this sampling of Folk music. As much as I enjoy the albums I find, I don't always have the time to go back and listen to them repeatedly. The songs from this episode are some of those that I have a made a point to revisit quite a few times. Join me next episode for one of those albums I can listen to year round—"Christmas Best Hits," by Chewing Gum. It's one of the best Japanese Christmas albums you're likely to hear, and one of my personal favorites.
As always, any feedback on this episode would be appreciated. If have any suggestions, or if you'd like to recommend a song or album for a future episode, drop me a line and let me know.
Remember, I've added a button to my Ko-fi page. If you'd like to support me one cup of coffee at a time, a donation is only $3. I've also opened a Redbubble store. I only have a couple designs up, but keep an eye on it as I'll be trying to add more. Any proceeds or donations received will be put towards purchasing new Japanese Christmas music to review for future episodes. You can also find me on Facebook, Instagram and Twitter. And if you get a chance, leave me a review on iTunes. Thanks!
Listen to this episode of the Holly Jolly Xmasu Podcast
Author: Holly Jolly X'masu
Title: Episode 41 – Japanese Christmas Folk Music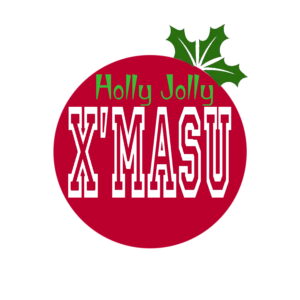 https://christmaspodcasts.com/wp-content/uploads/2020/11/hollyjollyxmasu-scaled.jpg
2560
2560
e_xander
https://christmaspodcasts.com/wp-content/uploads/2023/06/logo4-300x138.png
e_xander
2022-01-18 05:00:42
2022-01-19 06:20:06
Episode 41 - Japanese Christmas Folk Music