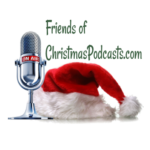 It's the final episode of the 2020 Christmas season, and we've got a full and fun episode ahead.
I read another great memory from our listener Rick… we learn that sometimes gift giving can be a fun, but complicated, process. Then I interview Manny, the host of the Feliz Christmas Merry Navidad podcast and we talk about his podcast, paying it forward, and the magic of Santa.
After that, Gracie and I talk about her Christmas and some of the Teddy Bears she got, a couple of snow storms we experienced, and a (Covid Safe) Christmas surprise trip we were able to take.
I wrap up the first season with some reflections and stats about the show. I am overwhelmed by how you the listeners responded to the show. The show ends with a reading of Susan Noyes Anderson's poem, "Christmas Past: The Afterglow" which is a fitting end to a wonderful Christmas season.
See you all in a couple of weeks for Season 2!
Timestamps
0:00 Intro
1:23 Listener Memory
5:00 Interview with Manny from the Feliz Christmas Merry Navidad podcast
38:13 Gracie's Christmas
54:35 Season One Recap
01:02:12 Poem: Christmas Past: The Afterglow by Susan Noyes Anderson https://susannoyesandersonpoems.com/
Music:
Deck the Halls by Kevin MacLeod is licensed under a Creative Commons Attribution 4.0 license. https://creativecommons.org/licenses/by/4.0/
Source: http://incompetech.com/music/royalty-free/index.html?isrc=USUAN1100263
Artist: http://incompetech.com/
Noel by Audionautix is licensed under a Creative Commons Attribution 4.0 license. https://creativecommons.org/licenses/by/4.0/
Artist: http://audionautix.com/
Angels We Have Heard by Kevin MacLeod is licensed under a Creative Commons Attribution 4.0 license. https://creativecommons.org/licenses/by/4.0/
Source: http://incompetech.com/music/royalty-free/index.html?collection=004&page=1
Artist: http://incompetech.com/
Listen to this episode of the Cozy Christmas Podcast
Author: ArtK
Title: Feliz Navidad! A Christmas 2020 Recap