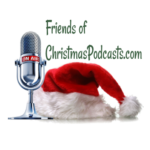 CONTENT WARNING: This podcast discusses a 1960 episode of "The Jack Benny Program" in which a character shoots himself offscreen.
On this beautifully wrapped and unwrapped and rewrapped episode of the official podcast for 40-year-olds whose parents associate cigarette commercials with Christmas, we're second-, third-, and fourth-guessing ourselves way back to 1960 to go Christmas Shopping with "The Jack Benny Program," the last televised version of a longtime radio favorite.
---
On This Episode:
Mike Westfall (@fallwestmike), surprisingly brittle for an unbreakable, crystal $12 watch.
Guy Hutchinson (@GuyHutchinson), wrapped in beautiful paper and tinsel at least 4 times before we started recording, author, public speaker, and host of the Drunk On Disney Podcast.
---
Topics and Tangents:
The Television Academy Foundation's page on Jack Benny's "Christmas Shopping" show, including a video interview with show writer George Balzer.
The earliest "Christmas Shopping" variant I could find, from 1937.
Eddie "Rochester" Anderson and the progression of race relations, and also a quick tangent on his becoming the first African-American to enter a racehorse in the Kentucky Derby.
Finally I get to talk about Mel Blanc, the real star of this show.
Adjusting the $1.98 and $40 wallets for inflation.
A tribute to Frank "Yyyyyeeeees?" Nelson.
The dumbest things we've made pets wear.
Dennis Day and the dying practice of actors legally changing their names to their most popular characters'.
Stupid "the customer is always right" stories.
---
Previous Podcast Episodes Mentioned:
---
Commercial Break:
---
Podcast Promo:
"The Jack Benny Program" and "Jack Goes Christmas Shopping" ©1960 J&M Productions, Inc.
The Advent Calendar House is on the web at adventcalendar.house, on Instagram @adventcalendarhouse, and on Twitter @adventcalhouse.
Listen to this episode of the Advent Calendar House podcast
Author:
Title: The Jack Benny Program: Jack Goes Christmas Shopping