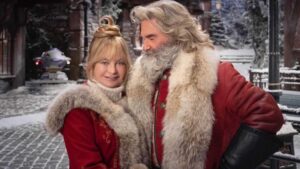 The Christmas Chronicles came around so successfully in 2018 for Netflix that it shook the modern thoughts of Santa Claus.
I mean, Wyatt Earp as Santa? Who wouldn't love that?
Kids loved Santa's easy going manner, his willingness to allow kids in the sleigh and they just knew he had a dimple under that beard that wasn't so snowy white. (Women loved Santa Kurt too, but for very different reasons).
In fact, when it comes to new and different Santas children and indeed the world seem to be pretty accepting.
Santa has been played over and over by the likes of Kurt Russell, Ed Asner and Tim Allen without so much as an objection.
But while actors playing Santa seem to be endlessly interchangeable the sequel featuring Santa Claus seems to be more difficult to get away with.
Ask anyone who has watched The Santa Clause 3 or the endless stream of bad remakes of Miracle on 34th Street. Once the magic is made it is simply difficult to duplicate.
That's the problem with The Christmas Chronicles 2. In fact, kids are seriously ticked at Netflix for their sequel.
How do we know this?
Because kids are writing in to Santa himself to tell him about it. I kid you not.
One of our many Christmas endeavors is the effort that actually started it all for us, SantaUpdate.com. Since 1991 we have through Santa Update tried to tell the story of Santa, the North Pole and elf life. It has not only connected us with the world at Christmas it has provided a steady stream of feedback from the kids.
They have opinions and they tell them to Santa. We are constantly surprised by the things children say to Santa but one of the biggest things we never saw coming was their opinions about The Christmas Chronicles 2. "I do not like the new Christmas Chronicles. Can you fix it?" writes one frustrated kid to Santa via SantaUpdate.com. "You are not very cool in this one, Santa", says another.
So what's the problem?
Well, apparently it's the story. Kids just can't follow it.
While the visuals are as strong as ever in the new Christmas Chronicles kids cannot seem to get into the story. It's too convoluted.
There are two other very interesting opinions that have surfaced, too: they have a problem with Mrs. Claus and her deadly cookies, and those elves just ain't right.
Why should we care about film critic kids?
When we started The North Pole Podcast a few years back it was really more of an extension of our North Pole Radio News offerings at Santa Update. The response from the kids, however, has been outrageous. Like most podcast listeners they don't leave reviews. But unlike podcast listeners everywhere they do unload on The Big Guy.
We noticed a real change in how we were perceived through their comments to Santa. It was both humbling and encouraging at the same time — a weird kind of feedback and one that we see we are lucky to receive.
We tend not to give children much credit because they are kids. We should be better than that.
Kids are honest – sometimes even brutally so. When it comes to Christmas, they do not care for things being shaken.
Therein lies an interesting and unique bit of Christmas that is true for all ages: people accept new things about Christmas but don't mess with what they already love.
We see this in other parts of Christmas all over the place.
For example, when Hallmark earlier this year nixed their line of ornaments themed by Gone with the Wind people came unglued.
No, not because of the political debate around it all. In fact, they did not want the politics anywhere near their tradition of collecting those ornaments. They just could not stand to see 40-years of a tradition laid to waste in an instant.
We see Christmas messed with endlessly. And we see the reaction when that happens.
A couple of years ago when the brouhaha erupted over Baby's It's Cold Outside it was hard to tell whose reaction was more absurd and over-the-top: those complaining about the song or those complaining that for 70 years the song was just fine.
So the kids aren't alone.
We all tend to see things associated with Christmas with our heels dug in. "Don't mess with Christmas" seems to be a universal theme.
Those are words of merry wisdom forever for our times.
https://christmaspodcasts.com/wp-content/uploads/2020/08/bugle.jpg
1061
1500
Christmas Podmaster
https://christmaspodcasts.com/wp-content/uploads/2023/06/logo4-300x138.png
Christmas Podmaster
2020-12-19 04:19:05
2020-12-19 04:19:05
Kids are Seriously Ticked at the Christmas Chronicles