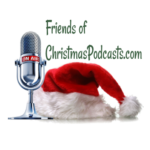 HAPPY NEW YEAR COVID IS OVER, RIGHT?!?!?! (it's not wear a mask, wash your hands, stay home, get vaccinated, listen to the CDC).
We finally cover a movie about radio deejays with an actual radio deejay!  Taylor Wallace joins Scarlett and Holli to answer their questions as well as debunk some inaccuracies portrayed in these movies.  Also, Scarlett REALLY hated this movie and she'll exact her revenge on Holli for picking it.
Disclaimer: This podcast contains spoilers and swears.
Warm our hearts all year long by rating, reviewing and subscribing to us wherever you get your podcasts. Don't forget to follow us on social media: Twitter, Instagram, and Facebook.
If we jingled your bells, please consider subscribing to our Patreon. You get to peek under the tree with early access to episodes, bonus content, and rewards at every level! This helps us with our production costs and to create even more holiday cheer!
Thank you for listening and have a very merry NetfliXmas!
All our links in one place: http://linktr.ee/netflixmaspodcast
Listen to this episode of the NetFlixmas Podcast
Author: netflixmaspodcast
Title: Midnight at the Magnolia, feat. Taylor Wallace-Riegel – Why Does Everyone Assume People Hate Jazz Now?