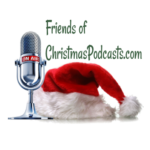 Scarlett and Holli are joined by our friend and Hanukkah expert, Jill Friedman.  We learn a lot about Judaism and how Jews celebrate (and don't celebrate) Hanukkah.  We (especially Holli) have a lot of fun seeing this interfaith relationship unfold.  This is also just an all-around great movie (according to Holli) starring that one guy from Degrassi and that one girl from Pitch Perfect.  We hope you all enjoy this episode about our (okay, just Holli's) new favorite holiday movie!
Disclaimer: This podcast contains spoilers and swears.
Where you can go to support our guest Jill:
Warm our hearts all year long by rating, reviewing and subscribing to us wherever you get your podcasts. Don't forget to follow us on social media: Twitter, Instagram, and Facebook.
If we jingled your bells, please consider subscribing to our Patreon. You get to peek under the tree with early access to episodes, bonus content, and rewards at every level! This helps us with our production costs and to create even more holiday cheer!
Thank you for listening and have a very merry NetfliXmas!
All our links in one place: http://linktr.ee/netflixmaspodcast
Listen to this episode of the NetFlixmas Podcast
Author: netflixmaspodcast
Title:
Mistletoe & Menorahs, feat. Jill Friedman – Slap My Degrassi, This Movie Is Pitch Perfect