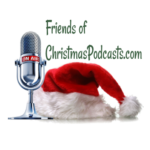 Happy Halloween, Christmas Fanatics! With the weather outside finally cool and Fall in full swing, we here at Tis the Podcast wanted to show our appreciation for you by sharing a very special Halloween episode of the show in which Julia, Thom, and Anthony cover the 1966 classic, "It's the Great Pumpkin, Charlie Brown!" This episode is a blast from the past, so travel back one year ago as the three hosts discuss this timeless special, debate whether it's as good as "A Charlie Brown Christmas", share their favorite quotes, and welcome a special appearance from baby Jude amongst many other things in this extraordinarily fun episode! Enjoy! And keep your eye on this space for more bonus content coming soon! 
Listen to this episode of Tis the Podcast
Author: Tis the Podcast
Title: On Halloween Night, The Great Pumpkin Rises Out Of His Pumpkin Patch And Flies Through The Air With His Bag Of Toys For All The Children!