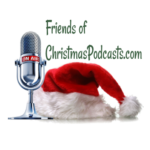 It's Christmas Eve, and we're walking through a ring of fire back to the Year of Our Lord 1982 to dance along with "The Smurfs' Christmas Special."
---
On This Episode:
Mike Westfall (@fallwestmike), my dear mother's recipe for making life miserable.
Thom Crowe (@thomcrowe), a very wise man with a beard who won't outright say he's not Santa, from Tis the Podcast.
Gerry Davila (@ RadChristmas), who would have made a heck of a Christmas pudding if only he hadn't eaten the last walnut, from Totally Rad Christmas.
---
Topics and Tangents:
The great debate over VHS recordings with vs. without commercials.
We want to try Greedy Smurf's giant cauldron of pink Christmas pudding.
My son thinks the king of Hyrule is Santa.
I am just now learning about Watergate salad.
The Smurfs in theme parks, including Hanna-Barbera Land in Texas and Kings Dominion in Virginia.
Danny Goldman (Brainy Smurf) played a similarly know-it-all-ish student in "Young Frankenstein."
Paul Winchell (Gargamel) designed and patented an artificial heart.
Papa Smurf Jedi-mind-tricks a pack of wolves.
The mysterious, unnamed Stranger may or may not be the actual Devil.
Teaser for The Smurfs' new animated series coming in 2021.
---
Previous Podcast Episodes Mentioned:
---
Commercial Break:
---
Podcast Promos:
---
"The Smurfs" and "The Smurfs' Christmas Special" © 1982 Hanna-Barbera Productions.
The Advent Calendar House is on the web at adventcalendar.house, on Instagram @adventcalendarhouse, and on Twitter @adventcalhouse.
Listen to this episode of the Advent Calendar House podcast
Author:
Title: The Smurfs' Christmas Special