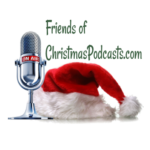 Happy Monday, Christmas fanatics! Can you believe we've already reached our last episode of November 2020? Where has the time gone? To celebrate the occasion, join Julia, Thom, and Anthony as they discuss the brand new, 2020, Netflix Original Holiday film, The Christmas Chronicles 2! As you'll remember, when the elves covered the original Christmas Chronicles back in 2018, Julia and Thom loved the film, the world it created, and the characters it introduced us to, while Anthony thought it was overrated. How does the follow-up stack up? Will the elves be just as divided, or has Belsnickel made these three True Believers cynical? Find out in an episode that, while sure to be somewhat controversial, is full of lots of laughs and a very lively discussion as the hosts break down this movie beat-by-beat! So settle in with your favorite holiday drink beside your lit Christmas tree, relax, enjoy, and get excited! Because, as of tomorrow, we are in the official home stretch of Christmas 2020 and will be breaking open those Advent Calendars!
Listen to this episode of Tis the Podcast
Author: Tis the Podcast
Title: Without The Star, The North Pole, The Village, Christmas Itself Is Doomed.