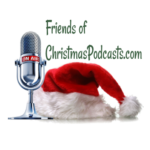 Hello you beautiful person.  It's here, Episode 30, was it worth the 2 weeks wait?
Probably not.
We start by discussing At This Time of Year by Big Brother UK winner Craig Philips.  As songs go, let's just say it's as good as you'd expect from a reality show winner, but it is for a worthy cause.  Fancy a listen?  here's a link:  https://www.youtube.com/watch?v=GhxbP5o9DoE
We have another joke from our listener Benji Pearson, will it match the hilarity of last episode's joke.  You decide.
We have a book review of The National Geographic Kids Weird But True Christmas.
300 "facts" to bore your friends with.
Then we look at X-mas Marks The Spot, a Christmas episode of The Real Ghostbusters cartoon where the Ghostbusters meet Scrooge and the 3 Christmas Ghosts.
If you fancy watching it, here's a link: https://www.youtube.com/watch?v=k0Dx2JIVWx8
This episode's recommendation is the podcast Imagined Life from Wondery.
Here's a link:  https://wondery.com/shows/imagined-life/
If you want to get in touch, the email is: totalchristmas@gmail.com
and the website is: totalchristmaspodcast.com
Merry Christmas
Listen to this episode of Total Christmas Podcast
Author: Jack
Title: Episode 30 – Who Ya Gonna Call?