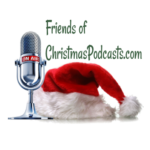 Chris, Brian and Jon provide a spoiler-lite review of new holiday film The Christmas Ride. The boys explain why this micro-budget mumblecore movie has a little something for everyone this Christmas. This movie is now available on Amazon Prime Video and Vimeo, and all three hosts recommend giving it a watch if you're looking for something fresh to shake up your typical holiday viewing. 
You can watch the trailer for The Christmas Ride here: https://www.youtube.com/watch?v=Y45euwomp9g
Watch on Amazon Prime here: https://www.amazon.com/dp/B08LZJZB2P
Watch on Vimeo here: Https://Vimeo.com/ondemand/thechristmasride 
Don't forget to come back for the first full episode of our second season on Nov. 23! 
Listen to this episode of YuletideTV Podcast
Author: Chris, Brian and Jon
Title: Bonus Ep. 11 – The Christmas Ride