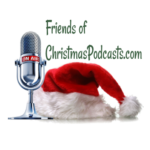 Welcome to a special bonus episode of Holly Jolly X'masu! In this episode, Gerry D. from the "Totally Rad Christmas!" podcast joins me to talk about the 1987 album, "G.M.O. Christmas Songs." It's a great collection of video game-style Christmas songs.
This was a fun album and one I desperately wanted to get on vinyl, not just because of how amusing it would have been to have this all-digital album in an analog format, but because the vinyl came with a poster of the cover. I missed out on the auctions I found for those, so I had to settle for the CD.
Featured on the album are songs arranged by Tomoji, Nobuyuki Nakamura, Yasuhiko Fukuda, and Noritaka Ubukata. Their clever arrangements are sure to appeal to anyone who grew up playing video games in the 80s.
As always, thanks for listening. For my regular episode later this month, I'll be covering Ryoko Moriyama's 1969 album, "Ryoko's Christmas." It's the first of her four full Christmas LP's, and one you don't want to miss
Any feedback on this episode would be appreciated. If you'd like to recommend a song or album for a future episode, drop me a line and let me know.
Remember, I've added a button to my Ko-fi page. If you'd like to support me one cup of coffee at a time, a donation is only $3. Any donations received will be put towards purchasing new Japanese Christmas music to review for future episodes. You can also find me on Facebook, Instagram and Twitter. And if you get a chance, leave me a review on iTunes. Thanks!
Listen to this episode of the Holly Jolly Xmasu Podcast
Author: Holly Jolly X'masu
Title: Episode 18 – G.M.O. Christmas Songs