Have you ever wondered what goes on behind the scenes of Christmas Clatter? Or perhaps you've had burning questions about your favorite holiday traditions? Look no further! In this special episode, aptly titled "Christmas Questions," we're peeling back the curtain and delving into everything you've been curious about!
Join us as we tackle not only your intriguing queries about the festive season but also your interest in the making of Christmas Clatter itself. From how the podcast came to be to the creative process behind each episode, we're excited to share the magic and hard work that brings holiday joy to your ears.
Ever wanted to know the inspiration behind our favorite Christmas episode? Curious about the challenges of researching holiday history? Or maybe you're eager to learn about the most heartwarming guest experiences. Your questions drive this episode, and we're here to provide the answers you've been waiting for!
Tune in and get ready to be immersed in festive insights, behind-the-mic anecdotes, and merry moments that make Christmas Clatter the podcast you love. Join us on this journey of discovery as we unwrap the answers to your burning questions and keep the holiday spirit alive all year round!
Don't forget to subscribe, like, and hit that notification bell so you never miss an episode of Christmas Clatter! Share this episode with fellow holiday enthusiasts and spread the joy of learning and celebration.
Thank you for being a part of the Christmas Clatter community. Wishing you a magical and musical holiday season filled with love, laughter, and the joy of Christmas songs that truly make this time of year unforgettable.
Just The Recipe
Use promo code CHRISTMASCLATTER23 for 30% off an annual subscription
The Essential Christmas Playlist   Spotify    YouTube Music   Apple Music
Cherry Pie Baked Beans
For Cherry Pie Baked Beans, use this Apple Pie Baked Beans recipe. Just substitute cherry pie filling for the apple pie filling, half bacon and half breakfast sausage and add chili powder, red pepper flakes and cinnamon to taste.
Follow us on social media for more festive content and updates:   Instagram   Facebook
Support Christmas Clatter:   West 5th Studios   Merry Moth Designs   Buy Me A Coffee
—–Affiliate Links—–
Virtual Studio
-Ecamm Live
Graphic Design
-Canva
Podcast Host
-Buzzsprout
Affiliate links mean I earn a commission from qualifying purchases. This helps support my channel at no additional cost to you.
Listen to this episode of Christmas Clatter
Author: Todd Killian, Christmas Enthusiast
Title: I Deemed It Essential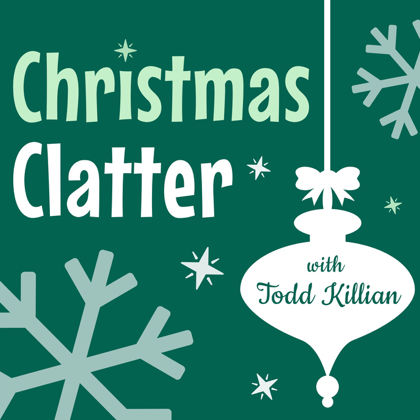 https://christmaspodcasts.com/wp-content/uploads/2020/09/Epi27-mp3-image.jpg
1400
1400
e_xander
https://christmaspodcasts.com/wp-content/uploads/2023/06/logo4-300x138.png
e_xander
2023-08-24 03:58:00
2023-08-24 05:58:34
I Deemed It Essential