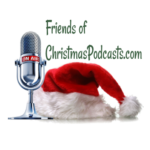 It's Episode 16 of The Total Christmas Podcast and this show is packed to the rafters.
We have the worst present ever.  It's a secret Santa gift, and this secret Santa should be thoroughly ashamed of himself.
The perfect gift idea is a personalised wine, beer or coffee glass.  There's an endless selection and it'll probably break within a year so you can buy them the same gift next year.  It's the gift you keep giving.
Thanks to a listener suggestion, this episode I give a list of plants that will flower around Christmas time and make for the perfect decorations in and outside your house.
Then Benji Pearson shares his story of shame.
The version of A Christmas Carol we look at was from an episode of A Shower of Stars.  It stars Frederic March as Scrooge and Basil Rathbone as Jacob Marley, and it's not the best.
If you want to watch it, here's a link:   https://www.youtube.com/watch?v=Ih5NNa6PEvA&list=RDXT0Rzy5Op2Q&index=11
The Yule Lad of the week is called Sausage Swiper.  The name pretty much says it all.
The recommendation is Totally Rad Christmas.  A podcast hosted by friend of the show Gerry D.  Each episode he and a guest look at the things that made Christmas in the 80s so rad.  Whether it's a film, TV show, toy or song +it's loads of fun and I was the guest on episode 32.
Here's a link:  https://www.buzzsprout.com/840331
If you want to get in touch you can email us at totalchristmas@gmail.com or visit the website totalchristmaspodcast.com.
Merry Christmas
Listen to this episode of Total Christmas Podcast
Author:
Title: Episode 16 – Christmas Plants