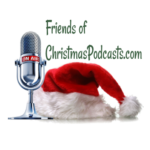 Happy Thursday, Christmas fanatics! Welcome to the ninth official installment of "Another Christmas Story"!
This week, Craig Brewer, of the always fascinating "Weird Christmas", will read to all of you Chapter Eight of our tale, entitled "It's Beginning to Look a Lot Like Christmas". Within this chapter, you'll meet the character of Hudson Jackson, an employee of Animal Control Services of New York, and his beloved mother, Violet.
We hope you like it! If you do, make sure to share this episode and our website, upon which the text of this installment is posted, to get it in front of as many eyes as possible! Make sure to check your podcast feeds for your regular weekly episode on Monday, in which the elves will cover the second batch of "Home Improvement" Christmas episodes, and next Thursday for the tenth official chapter of this story – "Chapter Nine: A New York Christmas", which friend of the podcast, Ron Hogan – a.k.a. President Hotdog – of Film Strip Podcast will be reading to y'all!
Enjoy, y'all!
Listen to this episode of Tis the Podcast
Author: Tis the Podcast
Title:
"Another Christmas Story" – Chapter Eight – It's Beginning to Look a Lot Like Christmas – As Read By Craig Brewer Of "Weird Christmas"