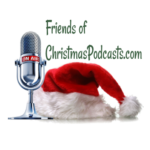 We're uploading a Christmas Podcast every day for the 12 Days leading up till Christmas Day. In todays ep
What are the BEST Secret Santa Gifts of All time?
We have the Ultimate Christmas Tip that could really help with your families  Christmas in the future. And
Why Eating Chocolate for Breakfast on Christmas Day is the best way to ensure a brilliant Christmas Day.
Plus Liam and Ness Sing a rousing rendition of Jingle Bells
And don't forget to click the link below and enjoy our choice of Christmas Classics with our very own Christmas Podding Podcast Playlist on Spotify.
https://open.spotify.com/playlist/0cviwIYNaB2GfqCda7Aos2?si=NEEcthhjR_Konr-KeueuKg
On Australia's ONLY Christmas Podcast, Christmas Podding.
Listen to this episode of Christmas Podding
Author: Liam Renton
Title: Christmas Podding -What are the BEST Secret Santa Gifts of All Time