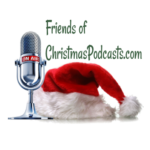 Today we start 12 days of Christmas Podcasts. We're doing a podcast a day every day from now till Christmas.
Today review the latest Netflix Christmas Movie "Holidate" and why we think its an instant classic.
We take a look at the weirdest Christmas Food on offer this year and why you should try it all. plus
What is the Greatest Christmas Song of all time? We find out
And Liam and Ness wrap up the show by singing their version of Deck the Halls.
This week On Australia's ONLY Christmas Podcast. Christmas Podding
Click to see Christmas Podding make the WORLDS TOP 15 Best Christmas Podcast List
https://blog.feedspot.com/christmas_podcasts/
Make sure you check out our Christmas Podding Podcast Playlist on Spotify. Liam and Ness's fave Christmas Tunes.
https://open.spotify.com/playlist/0cviwIYNaB2GfqCda7Aos2?si=NEEcthhjR_Konr-KeueuKg
Listen to this episode of Christmas Podding
Author: Liam Renton
Title: Christmas Podding -Why you should be trying every weird Christmas Food on the Market this year and how it could change Chrismas Dinner.