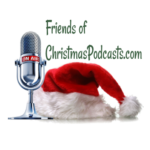 Stop! Before you do anything, make sure you listen to our guest spot on Totally Rad Christmas, here: https://www.buzzsprout.com/840331/5755690-ep-29-doogie-howser-m-d-w-chris-brian-and-jon.
We watched and reviewed a Christmas episode from the first season of Doogie Howser, M.D., titled "Doogie The Red Nosed Reindeer" (available on Hulu). Our first ever mini-bonus episode serves as a companion to this conversation by telling you whether we thought it was a Christmas Classic, Pair of Socks, or a Lump of Coal, but that's it! For our full thoughts and dissection of the episode with host Gerry Davila, you need to go check out Totally Rad Christmas, your podcast home for all things Christmas in the 80's.
See Gerry's full back catalog here: https://www.buzzsprout.com/840331.
Listen to this episode of YuletideTV Podcast
Author: Chris, Brian and Jon
Title: Mini-Bonus Ep. 1 – Doogie Howser, M.D.