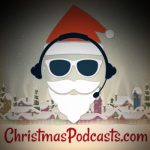 New Podcast to ChristmasPodcasts.com:
Closer to Christmas Podcast
Think of this podcast as an advent calendar style show. Each episode will get us closer to Christmas as Charlie talks about a Christmas related theme. An episode can range from a piece of Christmas trivia, to a review, a song, something fun, an interview, etc.. The possibilities are endless, but will always be Christmas themed.
Here are the episodes that dropped the weeks of September 10th through the 23rd:
Season's Eatings Podcast – September 10th – "Side Dish – Tom and Jerry."
Sleigh Bells & Mistletoe Christmas Podcast – September 10th – "Capt. Sensible One Christmas Catalogue."
Total Christmas Podcast – September 10th – "The Real Saint Nicholas."
Tis the Podcast – September 11th – "Look Up Children! Yes Salem – I, Santa Claus, Have Decided to Retire. (Trailers for 'Hocus Pocus 2' and 'The Santa Clauses')"
Christmas Podding Podcast – September 11th – "Why Making a Christmas Resolution This Year May Change Your Entire Festive Season for the Better."
A Cozy Christmas Podcast – September 12th – "'Christmas Jenny' by Mary E. Wilkins Freeman…And Some Fun News!"
Tis the Podcast – September 12th – "This is So Not the Christmas I Had in Mind. (Unaccompanied Minors)"
Totally Rad Christmas Podcast – September 12th – "Remaking a Christmas Playlist with Only '80s Versions pt1 (w/Danny and Anthony)"
Christmas Creeps Podcast – September 12th – "Stocking Stuffer: The Christmas Gift of Light."
Christmas Morning Podcast – September 14th – "102 Days Until Christmas."
Totally Rad Christmas Podcast – September 15th – "Totally Rad Christmas."
Christmas Alphabet Podcast – September 15th – "Christmas Alphabet V."
Can't Wait for Christmas Podcast – September 16th – "Muppets, Santa Clauses and D23 with Dave from Mousetalgia (Bonus Episode)"
Closer to Christmas Podcast – September 17th – "Aldi Advent Calendars."
Sleigh Bells & Mistletoe Christmas Podcast – September 17th – "Make Ahead Holiday Baking."
Sounds of Christmas Podcast – September 18th – "Creeps."
A Cozy Christmas Podcast – September 19th – "This Episode is Underrated? Underrated Christmas Films with Special Guest Derick McDuff."
Holly Jolly X'Masu Podcast – September 19th – "Mika Kanai's 'Clam Chowder.'"
Totally Rad Christmas Podcast – September 19th – "Hercule Poirot's Christmas (w/ Art Killmer)"
Feliz Christmas Merry Navidad Podcast – September 20th – "Puerto Rico Will Rise Again."
Christmas Morning Podcast – September 21st – "95 Days Until Christmas."
Christmas Clatter Podcast – September 22nd – "Well, That Took a Turn."
Christmas Countdown Show Podcast – September 23rd – "Hallmark Channel's Countdown to Christmas 2022 Movie Lineup Revealed!"
Sleigh Bells & Mistletoe Christmas Podcast – September 23rd – "Christmas Destinations: Utah."
The Total Christmas Podcast – September 24th – "Letters to Santa."
Holly Jolly X'Masu Podcast – September 24th – "'White Album '90.'"
Season's Eatings Podcast – September 25th – "Shortbread."
Can't Wait for Christmas Podcast – September 25th – "Underneath the Tree."
Christmas Podding Podcast – September 25th – "Christmas Recipes You Can Eat All Year Round."
Merry Britsmas Podcast – September 25th – "Not Going Out for a Glam Christmas."
Totally Rad Christmas Podcast – September 26th – "Michael B Moynahan: Zoobilee Zoo's Lookout Bear."
Sounds of Christmas Podcast – September 26th – "Christmas One Hit Wonders."
Tis the Podcast – September 28th – "The Rankin/Bass Extravaganza! Fixing the Existing Rankin/Bass Universe and Pitching the Live-Action Remake of the Rankin/Bass Universe! (featuring Gerry Davila of "Totally Rad Christmas"!)"
Christmas Morning Podcast – September 28th – "88 Days Until Christmas."
Totally Rad Christmas Podcast – September 28th – "Star Trek: The Next Generation (w/ Matt Spaulding)"
Christmas Clatter – September 29th – "I Went to Oklahoma in a Tornado."
Christmas Alphabet Podcast – September 29th – "Christmas Alphabet W."
Closer to Christmas Podcast – September 30th – "The Christmas Spider."
https://christmaspodcasts.com/wp-content/uploads/2020/08/CPP-Episode-1-mp3-image.jpg
1500
1500
e_xander
https://christmaspodcasts.com/wp-content/uploads/2023/06/logo4-300x138.png
e_xander
2022-10-02 20:57:54
2022-10-02 20:57:54
Christmas Podcasts Roundup - September 10th through September 30th, 2022