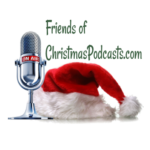 Welcome to another episode! Today I share a memory from the winner of the Scrooge Ornament, then I have an Interview with children's author Kathryn Burgess. She has a great new story to help kids deal with seeing Santa in a safe way this year. Gracie and I are on the search for more treats and this time we make some cinnamon and sugar chips and talk about Christmas, COVID, and a few laughs. Then I read a Christmas excerpt from Charles Dickens' book, The Pickwick Papers.
If you're subscribed to the podcast, be on the look out this week for 3 Halloween Stories to drop in your podcast feed!
Check out Kathryn's book https://snow-globe-santa.mybigcommerce.com/the-snow-globe-santa-childrens-book/ and her website: https://snowglobesanta.com/
Listen to this episode of the Cozy Christmas Podcast
Author: ArtK
Title: Santa is Stuck in a Snowglobe!