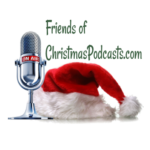 Scarlett and Holli have their first guest ever to talk about The Mistle-Tones.  And ooooweeeee we have more conspiracies on this one.  How much autotune was used in this movie?  Who was the real villain?  How hot were those Chest-Nuts?  Join us and special guest Jeff Buck as we take a deep dive into what really happened in that supply closet.
And how awesome was Jeff?  Here's where you can find him:
Social Media: @funnyasbuck
https://whostheworst.buzzsprout.com/
http://saycheese.buzzsprout.com/
Listen to this episode of the NetFlixmas Podcast
Author: netflixmaspodcast
Title: The Mistle-Tones A Christmas Musical, feat. Jeff Buck – Bring the Chest-Nuts Back!