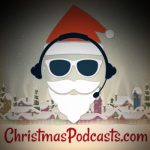 Here's message from Scott and Jay: Duane Bailey of Tinsel Tunes has decided to spend more time with his Christmas Light Display and family, and he asked them to take the helm. They want to thank Duane for this opportunity and look forward to him guest hosting in the future. They are really excited to continue what Duane started and they'll drop episodes in January on both Jingle Jank and Tinsel Tunes!
And, I had a message for Duane that was played for him on the Tinsel Tunes episode with Scott and Jay and I just want to reiterate my best wishes for Duane on his future endeavors. I will miss hearing his voice regularly on Tinsel Tunes, but I know he'll pop in every now and then. I am excited to see what Scott and Jay do with Tinsel Tunes and I truly believe that Tinsel Tunes is in extremely capable hand with them.
These are the new episodes that dropped the week of December 4th through the 10th.
Advent Calendar House Podcast – December 4th – "The Dick Van Dyke Show: The Alan Brady Show Presents."
Christmas Podding Podcast – December 4th – "Would You Make the Ultimate Christmas Compromise Just So You Won't Spend Christmas Alone?"
Feliz Christmas Merry Navidad Podcast – December 4th – "Christmas Blog Day 4."
Sleigh Bells and Mistletoe Christmas Podcast – December 5th – "A Crock Pot Christmas."
Christmas Podding Podcast – December 5th – "The One Tip Guaranteed to Help You Avoid All Christmas Day Meal Stress."
Feliz Christmas Merry Navidad Podcast – December 5th – "Christmas Blog Dia 5 En Espanol."
Christmas Time in the City Podcast – December 5th – "How YOU Doin'? with Danny Jordan from the Christmas Countdown Show."
The Sounds of Christmas Podcast – December 5th – "Rosalie Drysdale Talks About Her Christmas Album, Her New String of Singles and More."
Totally Rad Christmas Podcast – December 6th – "Santa '85 (w/ Scott & Anthony)"
A Cozy Christmas Podcast – December 6th – "Elves 2.0: Cast Interview with the Birmingham Children's Theater."
Tis the Podcast – December 6th – "Love Doesn't Have to be Perfect. It Just Has to be Honest. (Love Hard)"
Advent Calendar House – December 6th – "Chanuka at Bubbe's."
Christmas Morning Podcast – December 6th – "19 Days Until Christmas."
Yuletide TV Podcast – December 6th – "Becker: Santa on Ice."
Christmas Countdown Show Podcast – December 6th – "Top 5 Santas of All Time."
NetfliXmas Podcast – December 6th – "Bridgerton Ep 3 – Swoon."
Christmas Podding Podcast – December 6th – "What's Considered the Rudest Thing Even When it Comes to Christmas Day Etiquette?"
Sounds of Christmas Podcast – December 6th – "Linda Imperial on Her Music Career, Her First Christmas Single and a Potential New Christmas Album."
Tinsel Tunes Podcast – December 6th – "Silent Night (and a Special Surprise.)"
TGI Podcast – December 7th – "King of Queens: Net Prophets (feat. Thom Crowe of Tis the Podcast)"
Christmas Morning Podcast – December 7th – "18 Days Until Christmas."
Eggnogs and Yule Logs Podcast – December 7th – "My Family Christmas Tree."
Christmas Podding Podcast – December 7th – "Who Has the Rightful Claim Over Christmas Day Leftovers When Christmas is Done and Dusted?"
Feliz Christmas Merry Navidad Podcast – December 7th – "Christmas Blog Day 7"
Sounds of Christmas Podcast – December 7th – "Karla Bonoff Talks About Her Christmas Album and This Year's New Christmas Music."
Christmas Creeps Podcast – December 7th – "8-Bit Christmas."
Totally Rad Christmas Podcast – December 8th – "Transformers pt 1 (w/ Gaz and Dange)"
Advent Calendar House Podcast – December 8th – "Care Bears Nutcracker Suite."
Christmas Morning Podcast – December 8th – "17 Days Until Christmas."
Yuletide TV Podcast – December 8th – "The X-Files: How the Ghosts Stole Christmas."
Santa by the Minute Podcast – December 8th – "Minute 87 – It Wets."
Snow in Southtown Podcast – December 8th – "'80's Christmas Songs."
Christmas Podding Podcast – December 8th – "Can You Bring a Random Date to Christmas Lunch?"
Sounds of Christmas Podcast – December 8th – "Pete Hopkins Talks About His New Christmas Single, Other Christmas Music, and a Potential Christmas Album for 2022."
TGI Podcast – December 9th – "All I Want for Christmas (Bonus)"
Christmas Morning Podcast – December 9th – "16 Days Until Christmas."
The Merry Little Podcast – December 9th – "Tabernacle Choir and Temple Square Christmas."
Christmas Podding Podcast – December 9th – "Does Being Away on Holidays Change Christmas or is it Better to Spend it at Your Own Home?"
Christmas Time in New York City – December 9th – "Macy's Holiday Window Display."
Weird Christmas Podcast – December 9th – "The Perchten with Al Ridenour."
The Christmas Alphabet Podcast – December 9th – "Christmas Alphabet B."
The Total Christmas Podcast – December 9th – "The Christmas Village."
Sounds of Christmas Podcast – December 9th – "Making a Christmas Album with Michael Sinatra (Part 3 of 3)"
Season's Eatings Podcast – December 10th – "Side Dish – Green Bean Casserole."
Totally Rad Christmas Podcast – December 10th – "The Pogues & Fairytale of New York (w/ Anthony Caruso)"
Merry Britsmas Podcast – December 20th – "All I Want for Christmas is a Medieval Peep Show."
12 Days Podcast – December 10th – "It's Time to Turn Charlie Brown into Charlie Red and Green."
Christmas Morning Podcast – December 10th – "15 Days Until Christmas."
Advent Calendar House Podcast – December 10th – "A Snow White Christmas."
Christmas Clatter Podcast – December 10th – "I Love Spending Christmas with You."
Yuletide TV Podcast – December 10th – "Bones – The Santa in the Slush."
The Christmas Countdown Show Podcast – December 10th – "Top 10 Christmas Movie Characters."
Christmas Podding Podcast – December 10th – "The Guaranteed Way to Ruin Christmas Day. What Not to Do This Year."
The Lost Christmas Podcast – December 10th – "Nativity: Everything You Wanted to Know, and More!"
Sleigh Bells and Mistletoe Christmas Podcast – December 10th – "A Very Disney Christmas Pt2: Disney Ornaments."
Holly Jolly X'Masu Podcast – December 10th – "Koichi Oki's 'The Man from YUKIGUNI'"
https://christmaspodcasts.com/wp-content/uploads/2020/08/CPP-Episode-1-mp3-image.jpg
1500
1500
e_xander
https://christmaspodcasts.com/wp-content/uploads/2023/06/logo4-300x138.png
e_xander
2021-12-13 15:09:45
2021-12-13 15:09:45
Christmas Podcast Roundup - December 4th through December 10th, 2021