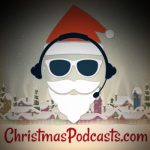 New to ChristmasPodcasts.com
Christmas Cousins Podcast – Meet the Christmas Cousins! Chad is the Holiday devotee and Seth is the Festive Freshman. Join them as they embark on a joyous journey through the seasons as Chad guides Seth through the whimsical wonders of each holiday. Join their hilarious escapades, from PSLs to holiday movie magic and beyond all year long! So, grab your cocoa, snuggle up, and let's sleigh this festive fiesta together! Ho-ho-hosted by Cousins Seth and Chad and fueled by holiday cheer, it's the podcast that turns every day into a celebration!
Here are the new podcasts that dropped the weeks of September 2nd thru the 15th.
Sleigh Bells & Mistletoe Christmas Podcast – September 3rd – "Rankin Bass News 2023."
Totally Rad Christmas Podcast – September 4th – "1988 Holiday IDs by E/P/A Recording Artists."
Tis the Podcast – September 4th – "I Can't Stand the Way That Alvin Comes in Late! It's Disrespectful to the Other Chipmunks! (The King of Queens – First Four Christmas Episodes)"
Closer to Christmas Podcast – September 4th – "Virtual Tour of Disney's Days of Christmas, and Ye Olde Christmas Shoppe."
Sounds of Christmas Podcast – September 4th – "About Us (2023 Version)"
TGI Podcast – September 5th – "Full House: Back to School Blues."
A Cozy Christmas Podcast – September 5th – "Mrs. Claus: A Christmas Legend."
Festive Foreign Film Fans – September 6th – "Anna and the Apocalypse (Scotland)"
Christmas Morning Podcast – September 6th – "110 Days Until Christmas! ('Christmas Shoes' Song Battle)"
Christmas Clatter Podcast – September 7th – "I'm Generally Not a Fan of…"
Christmas Cousins Podcast – September 9th – "Breaking News: Is the PSL Different This Year? Bonus Episode."
Total Christmas Podcast – September 9th – "A 1910 Christmas Carol."
Christmas Cousins Podcast – September 10th – "Breaking News: Seth's Trader Joe's Pumpkin Pilgrimage!"
Season's Eatings Podcast – September 10th – "Cinnamon."
Christmas Podding Podcast – September 10th – "Why We Should Take as Many Cringy Christmas Photos as Possible This Year."
Sounds of Christmas Podcast – September 10th – "AI Recommending Christmas Music."
Tis the Podcast – September 11th – "But, Baby, What About Our Magical Romantic Night? (How I Met Your Mother pt 2)"
Totally Rad Christmas Podcast – September 11th – "Masters of the Universe UK Comics Christmas Issues pt2 (w/ Jeff and Thom)"
Sleigh Bells & Mistletoe Christmas Podcast – September 11th – "Twas the Night Bicentennial."
Christmas Cousins – September 12th – "Seth's Second Stint: Hallmark's The Christmas Cottage Critique."
Christmas Cousins – September 13th – "Trader Joe's Fall Haul Pt. 1: Pumpkin for Breakfast…Seth's Fall Flavorful Awakening."
Christmas Morning Podcast – September 13th – "103 Days Until Christmas! (Original Christmas Song Battle)"
Christmas Cousins – September 14th – "Breaking News: Wendy's NEW Pumpkin Spice Frosty Bonus Episode)"
Christmas Cousins – September 15th – "Fireside Chats: Our Inaugural Interview with the Christmas Aficionado!"
https://christmaspodcasts.com/wp-content/uploads/2020/08/CPP-Episode-1-mp3-image.jpg
1500
1500
e_xander
https://christmaspodcasts.com/wp-content/uploads/2023/06/logo4-300x138.png
e_xander
2023-09-18 18:55:07
2023-09-18 18:55:07
Christmas Podcasts Roundup - September 2nd through September 15th, 2023