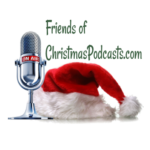 It's time to meet the Advent Calendar House's seasonal Muppets quota as we secretly stroll down Jim Henson's dark nightmare hall to 1986 to rewatch "The Christmas Toy," an idea no one has repeated since.
---
On This Episode:
---
Topics and Tangents:
The DVD release cut Kermit dressed in a Santa suit from the intro and outro, but he's back in the version streaming on Amazon Prime Video.
Rugby crashing his skateboard into a block tower is the 1980s Muppet version of WWE's Titus O'Neil tripping and sliding underneath the ring.
"Teacup Furby," as named by Donnie.
The pink-haired doll playing the drums during "Toys Love to Play" reminds Beth of a similar song from "Mother Goose Rock 'n' Rhyme."
Apple is closer to a female version of My Buddy than Kid Sister, the actual female version of My Buddy.
The inevitable "How much did 'Toy Story' take from this?" conversation.
Somehow we worked in a Christmas Shoes joke. I don't have a link for that. I just wanted to let you know.
Apple riding down the staircase on the back of Cruiser's taxi beat Thelma and Louise by 5 years.
A quick shout-out to "Don't Eat the Pictures: Sesame Street at the Metropolitan Museum of Art."
Why the humans heard Meteora fighting chess pieces in the living room, but not every toy throwing a party in the playroom with the lights on across the hall.
The family cat's name is pronounced like "Ouija," but the DVD's captioning spells it "Weegie."
"The Secret Life of Toys," the short-lived 1994 sequel series featuring Rugby, Mew, and a few others in a new home with new friends.
---
Previous Podcast Episodes Mentioned:
---
Commercial Break:
---
Podcast Promo:
---
"The Christmas Toy" ©1986 Henson Associates, Inc.
The Advent Calendar House is on the web at adventcalendar.house, on Instagram @adventcalendarhouse, and on Twitter @adventcalhouse.
Listen to this episode of the Advent Calendar House podcast
Author:
Title: The Christmas Toy