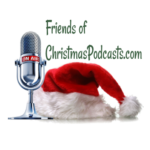 As we inch closer to Christmas Eve, strap on your cardboard wings and buckle up as we take a 2-dimensional flight back to 1999 to revisit the Matt Groening-produced TV special, "Olive, the Other Reindeer," starring the voices of Drew Barrymore, Joe Pantoliano, Dan Castellaneta, and Ed Asner as Santa four years before "Elf."
---
On This Episode:
Mike Westfall (@fallwestmike), unemployed penguin ready to make you a deal on an extremely valuable watch.
Erin Evans (@mserinmevans), my hard-of-hearing pet flea who's only here to mistakenly tell you your family doesn't want you here.
Joey O. (@ImGonnaDJ24), an injured reindeer's flightless cousin who's very excited to be introduced as this, from Y-Not Radio and Words With Nerds.
---
Topics and Tangents:
This special premiered exactly 10 years to the minute after the first episode of "The Simpsons."
The Making of "Olive, the Other Reindeer" takes you behind the scenes to watch the computer animation slowly render on what appears to be a Gateway 2000 PC running Windows 98.
We compare the animation style to PaRappa the Rapper.
"Mr. Lunch Takes a Plane Ride," the first book by "Olive" creators Vivian Walsh and J. Otto Seibold, was the first children's picture book created with digital media.
"The Goonies II," a video-game-only sequel for the Nintendo Entertainment System in which the Fratellis kidnap a mermaid.
Jay Mohr in "Camp Wilder," a short-lived TGIF sitcom in the doomed 9:30 spot.
The mondegreen, a brief history and other famous examples, how one ended up an official part of another Christmas Carol, and the stupidest lyric I've ever misheard.
Dan Castellaneta uses a similar voice for the Postman as he does a few years later for the Robot Devil in "Futurama."
A brief history of "You're no Jack Kennedy," and its lasting impact.
The time Bullwinkle tried to kidnap my baby at Universal's Islands of Adventure.
R U Talkin' R.E.M. Re: Me?, formerly "U Talkin' U2 to Me?" and currently "U Talkin' Talking Heads 2 My Talking Head?"
Michael Stipe on "The Adventures of Pete & Pete" and "The Simpsons."
There's a Hanukkah menorah on top of Santa's castle.
This special suggests Santa sorts his deliveries alphabetically, which is super inefficient.
---
Previous Podcast Episodes Mentioned:
---
Commercial Break:
---
Podcast Promos:
---
"Olive, the Other Reindeer" © 1999 Twentieth Century Fox Film Corporation.
The Advent Calendar House is on the web at adventcalendar.house, on Instagram @adventcalendarhouse, and on Twitter @adventcalhouse.
Listen to this episode of the Advent Calendar House podcast
Author:
Title: Olive, the Other Reindeer